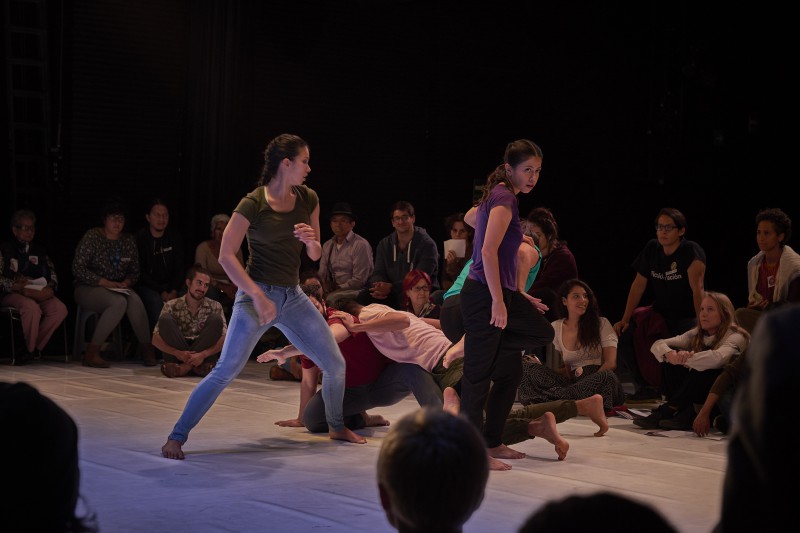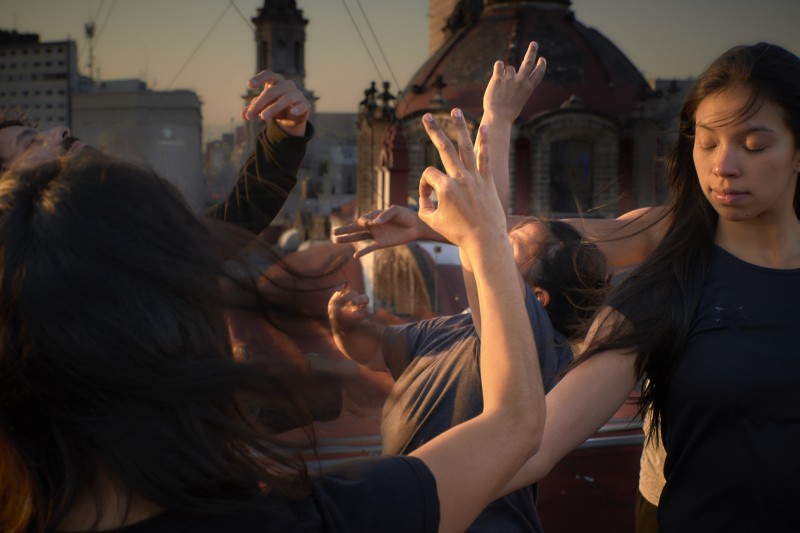 Festina Lente, the Mexican way.
The idea of ​​resuming FESTINA LENTE, our interactive dance performance from 2013, with a Mexican team came to us after a workshop on dramaturgy and score-based work in dance as part of the German-Mexican exchange year about a year ago. Together with Olga, the organizer on the Mexican side, herself a choreographer and performer, we wanted to start the exchange as soon as possible, and Festina seemed suitable because it reflects our working method with open but precise movement scores, a topic from the first workshop An already clear conceptual framework offered plenty of room for encounters, locally motivated adaptations and dramaturgical negotiations. In addition, we were curious how a Mexican team and audience would deal with this interactive piece and we also liked the idea of ​​a free revision without the story behind it. Olga liked the idea and Ilona from the GI made contact with Chopo and Ceprodac. Olga turned to Diana and Gervasio, a choreographer duo from Merida and so a very diverse, well networked and artistically promising project team with interesting partner institutions and the opportunity to present the project in four cities altogether 7 times.
One year and countless emails later, I make my way to Mexico City to rehearse in three weeks probation with a still unknown cast, which we had developed in Berlin with our dream team of dancers in 6 weeks of intensive work. An exciting venture, but also a way to iron out one or the other wrinkle from the original piece and probably new ones. A chance that I was especially looking forward to, because I had already fallen in love with FESTINA and again and again I thought, if the end was not so crumbled, you would be perfect, my piece.
The trial days are wonderful. As many as three of the dancers remind me of the original cast, you fly around half the globe and recognize old ones in new acquaintances - coincidence or a subversive integration of the subconscious, or is there something typical in the dance? In any case, I was delighted to have three seasoned choreographers, Olga Diana and Bacho, three experienced choreographers with an experiential approach to conceptual approaches, who found my methods very curious and open-minded, but also found enough framework information in my methodology in order to unfold independently in content.
Likewise, I rejoiced at the two younger ones, Rebecca and Memo, two very clever, fast precise and reactive performers who were very open-minded from the start, but
rather a traditional work with virtuoso forms of movement and classical narrative were used. You might have wanted a bit more guidance in detail, but I have to find a way to keep everyone in the boat. And as Olga will tell me at the end of the project, she was glad that I was not a choreographer dad. Thus, this project not only holds a cultural exchange potential between Europe and Central America, but also a dialogue between two worlds within contemporary dance, which are not so often in exchange.
I remember a comment from Bacho the first week: "It's amazing how free you feel and how many ideas you develop, if you have very clear rules to follow." And one of Rebekka I have understood in the spirit of this, that she would have liked to have provided more virtuosic material, but thought that stylistically inappropriate because it was not explicitly requested. Memo became more and more silent and withdrew more and more. Again, I suspected that it had to deal with inconsistencies that are based on questions of aesthetic style.
FESTINA LENTE is not a common stage play. The style is not that important. It is an attempted arrangement in which something is negotiated in and with the audience, how to deal collectively with power, how to submit to a collective process or not, what one is willing to risk for the art that one wants to see. Festina risks herself at every performance. But is not art too wasteful? Is not there just a good pound of freedom buried here? The dramaturgy of Festina is situational and incidentally a different approach to dance is created beyond the usual excellency assertions and viewing habits which dance is that is not so important important are the situations that arise. All this can not be rehearsed without an audience and so was the hope that after the first performances everything would come together and so it was.
All involved became a team. Aturo and me at the technology, Ireri at the logistics, the dancers grew together. Because it is not easy to perform this piece. An hour on call, sometimes with such complicated tasks that it is simply not possible to follow all the instructions following the rhythm of the audience. You may feel like you are abused if you do not find a sporty way of dealing with this idea of ​​waste. Waste ... would have occurred to me the word in Mexico, waste and freedom - maybe it would have helped them. After 7 very different performances, we came together as a team to discuss the future. Because one thing was clear, even after the first idea: it should go on. Everyone here had something to say a critique a desire an idea for the future. Alone that was great. Everyone was there, got the job done, wanted the best for themselves and for everyone. Nothing matters to anyone. And this with a team in which everyone could confidently go his own way, where nobody needs the other. Then I realized that this has grown. And so I now dare to write that outward. And to share the most memorable things here. A kind of mini-manifest developed from a feedback round:
1: A good picture needs a suitable frame! The conditions for the performances were acceptable in Two out of four cities. Just a piece that is re-negotiated every time between a sporty game and serious art needs the artistic context. We were all in agreement that the ideas in which this was the case stood on a pedestal from which it could be viewed.
2: Defend your art with your life! After one of the difficult ideas, I was barking. Immediately after. The dancers were just not up to par. Maybe it was the frame, perhaps also that spectrum of possible in detail not yet so clearly delineated. But in this piece can only negotiate something, if it is shown. Even if it is difficult to give the best in every situation.
3: Honor the dance! If we, like Olga Bach and Diana, make our own projects, write applications, network, do OA and often still have bookkeeping, we do not have much time to practice. We find solutions, unique selling points, our own personal style. New factors are added to the quality of movement. But that also means that we are not the same dancers we used to be when we danced for eight to ten hours every day, you're getting older and shifting your interests. But if Memo, who has been critically distant for half the rehearsal and has never said anything, now proposes more solid physical preparation before each performance, which will make it possible to get a little better with each show, then that is a work assignment to fulfill.
4: Please do the most beautiful things at least twice! There are no perfect pieces and that's a good thing. There is no perfect ending to a piece whose course is so open. That I have learned. The New End is closer to what happened before. Actually, it has always been in the air in the way, but sometimes it's hard to do the obvious because you do not think it's original enough. It was great to revise such a youthful sin in a second attempt. Having a second try is great. You learn so much.
I also learned that people in Mexico tend to count faster than in Europe, that I really like this country, that it's worth it to get the best partners you can get, that it's worth putting all the cards on the table when it comes to making partners friends. Next year it will continue. Let's see how long the wind carries us.
D.B.
Subscribe to our newsletter